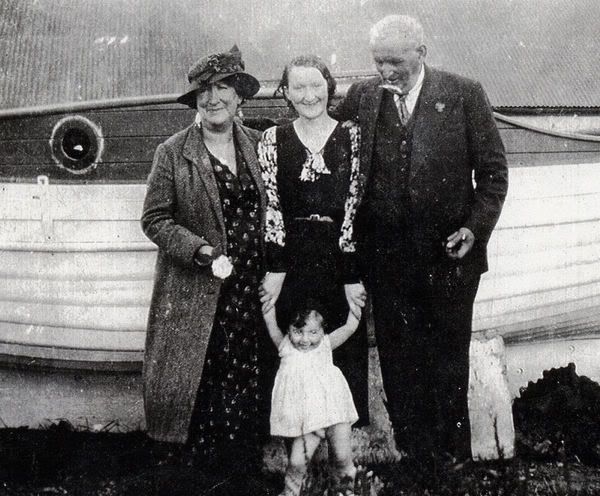 (My great-grandparents and family in Ireland, circa 1930)
My grandfather, Joe was born in Cork, Ireland in 1899, the first born and only son. If the tales were all true, he would have had us believe he was conceived under the moonlight by the Blarney Stone, and born on a ship in the middle of the Irish Sea. My grandfather, you see, had the incredible knack of making the mundane sound fascinating and incredible. But at the same time, most of what happened in his early years needed no embellishment. By his second decade, he'd already lived more life than most of us do in our entire existence.
At 15, he joined the British Army and fought in WWI. Of course, he lied about his age. Everyone did in those days. By the time he was 18, he was returned to Ireland an injured veteran, having survived a bayonet strike in France. He was left for dead on the battlefield, and was found alive by French nuns. The wound had festered, leaving him with very little stomach and intestine. It would plague him all his life, and while he did not complain, he would often have his antacids at the ready.
When he returned to Ireland, he joined the Royal Irish Constabulary, an offshoot of the police force that had many a run-in with the IRA. It was a heady time. After WWI and until 1922, Ireland was in the midst of it's Troubles and experiencing close to a civil war. Families were strained as many took sides and it was a difficult time for all. He lost his closest friend (with the unfortuante nickname of Lucky) when he was shot in the head by a sniper as they were walking down the street.
He met my grandmother by gunpoint. Not much more a romantic story could be told, but he was on patrol the night she decided to sneak out of the nurse's dormatory for a quick smoke. It was after curfew, and he saw movement. Thankfully, he was not trigger happy and thus, a love story was born that rivalled the greats. Their courtship was short and given the political and social climate they chose to leave Ireland. Given his Irish-Catholic family and her English Protestant one, it raised some difficult choices during those times. They flipped a coin...heads was Canada, and tails Australia. You can guess what they got.
They sailed into a wintery Montreal in 1922, my Nan, Rose, newly pregnant and highly nauseated on the ocean voyage. Their first stop in Canada was harsh. A new land, new language and Joe had contracted an illness on the ship. For a while, it looked like Rose would be a widowed young Mom in a foreign land. Thankfully, he recovered and they made their way west to Vancouver.
Joe spent the rest of his years as a farmer, a fisherman, a volunteer policeman, a truck driver and pretty much anything that kept food on the table for his six kids. Rose raised her kids, and when they were gone from the nest, took in foster kids until finally at the age of 60, had to retire.
Rose died of a heart attack at the age of 76. I was 8 but I can remember my Grandad weeping and being inconsolable. His heart was gone, and he never truly recovered. Finally, after 6 deeply depressed years, his body finally gave in and he passed on to be with his Rose. Amazingly, the cause of death was due to the scar tissue from the bayonet injury nearly 60 years previous. It was as if his body finally decided it was time.
He gave us a love of all things Irish. He told us of the rolling hills he longed to see again, pointed out similarities to our geography and when he was tired, he would speak in the most lovely Irish brogue. In fact, just 6 days before he died, he sung songs from his childhood so clear and so strong that they will stay in my consciousness for the rest of my life. He told us stories and fables that night, both real and imagined. He made me very proud of my heritage that night. In fact, my tattoo is of a shamrock and a rose to remind me of where I come from, and that love can be everlasting.