I have always had a fascination with genealogical history...not just the dates and numbers but who these people, my ancestors were. Where they lived, what they were like. Bringing history to life for me, imagining my forebears living through times long ago. The picture below always amazed me from the time I was a little girl. Thinking that my Dad's grandmother lived in the hoop-skirted world was amazing to me.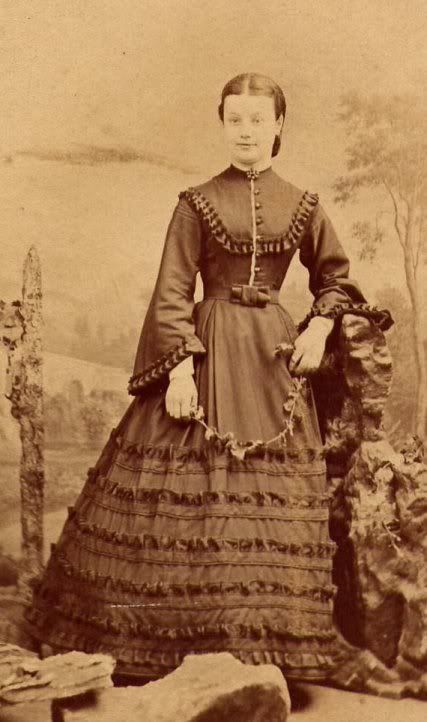 Jane Herkes was born in 1855 in Stenton, Haddington, Scotland to James Herkes and his wife, Janet Hastie. She was the youngest of 4 and the only daughter.
Jane lived a fairly eventful life by the standard of the day, passing away in Vancouver, BC at her daughter, Jennie's on January 29, 1941 at the age of 85.
She married her first husband, Mr. Porter around 1875. Unfortunately, I have yet to find his first name or much information about him. However, what I do know, is during their short marriage, they had three children: James (b. 1878), Mary (b. 1879) and Janet Margaret (b. 1880). It would seem 1881 was a difficult time, as both Mr. Porter and Mary passed away in the first few months of that year. Jane became a single mother of two young children.
On June 21, 1881, she married her new husband, Andrew Wilson Thomson - a coffin maker and shipwright. They left left Scotland to take up residence in Southshields, Durham, England. James and Janet went to live with relatives of their father in Scotland, and although still kept in some contact with the family, seem to have been abandoned by their mother. They were seldom spoke of after that and when they were, they were called cousins by my grandmother. I guess half-siblings were not as accepted back then.

Jane and Andrew had a family of four in Northern England. Andrew was the eldest, followed by Herkes (b. 1883), my grandmother Jennie (b. May 1890), and Wilson (b. 1895).
She was always a difficult personality, and even her daughter left home at age 12 to get away from the turmoil in the house. Later, Jennie moved to Canada to join her children. She lived with the lifelong bachelor Wilson for a while, and finally came to live with her daughter, Jennie Bryant in Vancouver. Jane would be a cantankerous lady and often smack Jennie's children with her cane as they went by.
In Jennie's daughter, Phyllis's words:
When I was about 15 (1940), Uncle Wilson was having trouble with Grandma (because of her age), and moved out here with her to stay with Mom and Dad. She wasn't very easy to get along with, and was determined that was the way to go, so Dad built a six-foot trellis across the back to get her mind off of it, and one day, we looked out and she was climbing up it (she was over 80 at the time!). She used to drink her tea with the teaspoon sticking up out of the cup, and when I would say, "Grandma, you'll poke your eye out", she would say, "It's MY eye, isn't it?"
Once, when I was home alone with her and in the bathroom, I heard the front door close. I ran to the window to see Grandma trotting up the street. I didn't have my dress on, my hair was wet, and I pulled on a coat and ran along 59th Avenue after her. I had to pull her home, with her yelling at me all the way.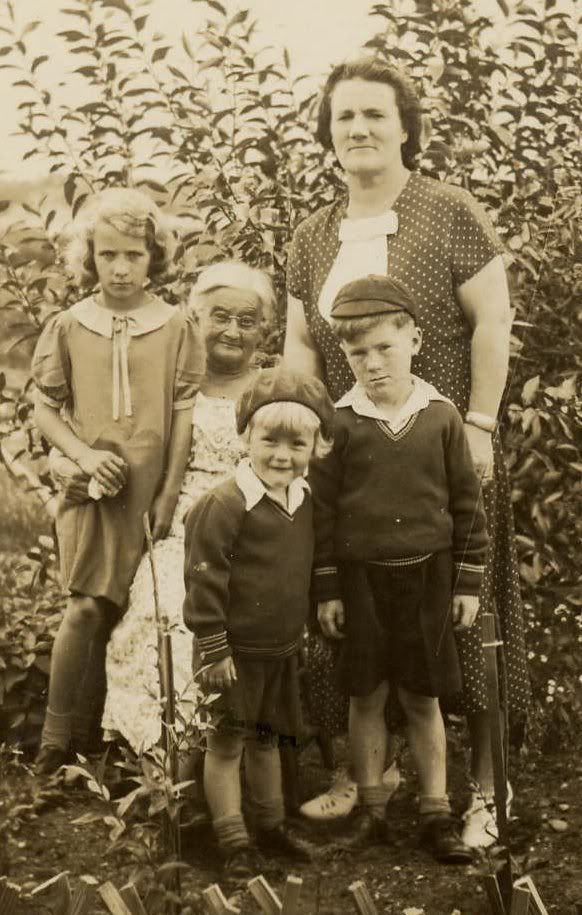 In the picture above, my Aunt Phyllis claimed 'the old bat was pinching me when they took that picture'. My Dad, the youngest, seems pretty unconcerned though.